Happy Thursday! Wow-this week is flying by! Today, I am participating, once again, in Mama Kat's Writer's Workshop from
Mama's Losin' it
. Every week, Mama Kat posts a few writing prompts, and anyone who wishes to participate can choose one or more prompts to write about, and then link up on her blog. Click on the button below to visit more blogs, or to join in yourself! (If you do decide to play along, leave me a comment, and I'll check yours out, too!)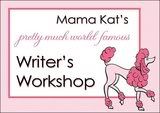 Here is the prompt I chose:
2.) Where were your shoes? Write about an interesting time when you happened to be barefoot. Begin and end your writing with a description of your feet.
It was a sunny, spring Sunday afternoon. Our family was gathered at my Aunt and Uncle's house to celebrate Mother's Day, and a couple of family birthdays.
(We're big multi-taskers.)
I had on my favorite pair of comfy, Born heeled sandals, which show off my pink toenails, yet hide the fact that my feet could really use some TLC. As we sat on the back deck, soaking up the sun, my Uncle Ron laid a couple of Wiffle Ball bats and some plastic balls in the grass.
You know, in case the kids wanted to play Wiffle Ball, or something.
Soon enough, Little Bit convinced me to bat so she could practice her pitching. Pretty soon, I was jokingly running to an imaginary base after hitting the hollow plastic ball, so I had kicked off my shoes, and was running barefoot in the plush, green grass.
Ahhhh...I love going barefoot in soft grass....
Not long after, my Uncle had joined in, along with my 64 year old, arthritic Dad, and actual bases were established-a tree stump level with the ground, my nephew's jacket, a plastic bag of sports equipment, and one of my beloved sandals as home plate. Now my daughter and my Uncle are pretty athletic-and somehow they ended up on the same team.
So very unfair.
That left my Dad for my teammate. We are not from an athletic stock of people.
At all.
Did I mention my Dad has arthritis? That left me pretty much to field all the balls that my uncle and daughter were Wiffling all over the far reaches of the yard. I was basically a panting, sweating, laughingly complaining mess, and they were beating us badly. My pleas for help to family members on the deck were politley, although laughingly, declined.
I think they were enjoying my pain...
Finally, we were up to bat, so I could sort of catch my breath. I was first up
(out of two, LOL),
and my daughter was
lurking by
playing first base. I hit the ball in between first and second, and took off towards the stump that was first base. My daughter got the ball and headed back to the base. I stepped carefully on the stump right before Little Bit arrived. First base made me a little nervous-remember, I was barefoot, and stumps have a tendency to be, well, splintery. So, right as I gingerly stepped on the base, Little Bit went to tag me with the ball, and I lost my balance. I tumbled to the ground in a disgraceful heap, and proceed to roll down the slope beyond. My loving family, looking on from the deck, errupted in laughter and applause.
Nice, huh?
As a child, I remember falling, and just jumping right back up. Falling is different as a 35 year old, out of shape woman. I had to take stock of the situation before getting up. As I lay there looking at the fluffy clouds
(miraculously, there were no stars or tweeting birdies floating in circles overhead),
I mentally went through each part of my body-amazed each time I discovered that it weren't in pain. My laughing uncle came over after a while, and said "Are you okay? Did you twist an ankle or something?" More guffaws came from the deck as I answered, "I don't know-I haven't gotten to that part yet!"
Anyhow, I was fine, and the game continued until for another 30 minutes or so, until my impatient Grandma decided she couldn't wait any longer to open her Mothe's Day gifts, and we quit. As we headed for the house, I picked up my shoes, and looked down at my feet, which were now green on the bottom, and even much more in need of some TLC.
Who knew feet could get grass stained?
I have a feeling that my daughter and I will both treasure memories of this day for a long time. Memories of Grandpa running (well, walking briskly with a limp, actually) bases, memories of the two dogs running around, trying to herd us as we went from base to base, and, of course, memories of me, tumbling down the hill. Good times. Really!